VACANCY: Child Bereavement Services Support Officer
CLOSING DATE: 23:59, WEDNESDAY 6 APRIL 2022
Little Plumstead, Norfolk
£20,000 Fulltime (37hrs per week);
Fixed-term contract (12 months with possibility of permanent contract to follow)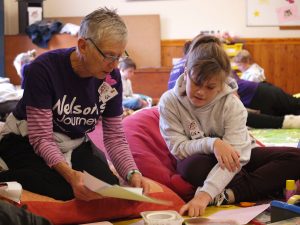 Nelson's Journey is offering an opportunity to join the charity in a new role that aims to support the effectiveness of the charity's child bereavement services, intially for a 12 month term during a period of maternity leave. If the role achieves the desired outcomes and ongoing funding is identified, the successful candidate may be offered an opportunity to continue beyond the initial 12 months.
Nelson's Journey offers the only specialist child bereavement service open to all children and young people living in Norfolk under the age of 18. Our Service Support Officer will work as part of the Child Bereavement Support Team by processing referrals and assessments for the charity's services, providing information and guidance by phone to the public, and helping with the preparation and organisation of therapeutic services and activities and the recording of associated data.
The successful candidate will have exceptional telephone and communication skills, strong administrative and IT skills, and will have the ability to work closely with other staff in the charity.
The charity delivers several services, including 1:1 sessions, group activities, residential weekends and activity days, a telephone support line, information and guidance, resources, volunteering schemes (including for young people) and training for professionals. Part of this role is to provide a telephone point of contact for the range of the charity's services, therapeutic interventions, and other activities such as the charity's Youth Panel and volunteering schemes. It is not intended for this role to include in-person direct work with children and young people, but some knowledge of child development would be helpful.
The post will be based in Little Plumstead, near Norwich, and the post-holder will report to the Child Bereavement Services Manager.
Much of the role will be telephone based at our office in Little Plumstead, and as the post-holder will be a point of contact for a range of services provided by the charity, we require applicants to be available for each working day Mondays-Fridays. Part-time employment may be considered for reduced length days (full-time hours are 9-5 Mon-Thurs; 9-4.30pm on Fridays).
The post is subject to a Disclosure and Barring Service (DBS) check. The successful candidate must be committed to the safeguarding of children and young people.
Closing date: 23:59, WEDNESDAY 6 APRIL
Interview date: THURSDAY 14 APRIL (tbc)
Make a difference to our work in support of bereaved children and young people in Norfolk, and download an application pack from the files listed below.
Enquiries and applications should be sent by email: rebecca.hume@nelsonsjourney.org.uk
Application pack:
SSO Cover Letter for Applicants
Nelson's Journey Briefing Note 2022