895
Children referred in 2019
704
Received 1:1 therapeutic support in 2018
144
Attended a therapeutic weekends or activity day in 2018
852
Calls made to our Support Line in 2019
Since 1997, Nelson's Journey has been supporting children and young people in Norfolk with their bereavement needs, helping to them to understand and cope with their feelings. The charity also supports professionals in the county who work with children, such as teachers and health workers, to help raise awareness of issues affecting bereaved children.
Nelson's Journey's vision is that every bereaved child in Norfolk will look forward to a positive future, empowered to reach their full potential
My role is to provide leadership of the organisation so that it can meet its aims for children affected by bereavement in Norfolk. I work with the charity's staff and its Board of Trustees to set and deliver plans which develop our services and ensure financial sustainability.
Simon Wright
simon@nelsonsjourney.org.uk
Child Bereavement Support Team
Our professional support team develop and deliver the services to meet the bereavement needs of children and young people referred to Nelson's Journey
My role is to ensure we are delivering the best and most appropriate service to the bereaved children and young people that we work with.  I ensure that our support is accessible to all and manage our child bereavement support team who support over 700 children each year.
I have been working at Nelson's Journey since 2013 and was a volunteer before that. I try to help children talk openly about the person who has died and share their feelings and memories, whatever they are. I also feel it's important to be able to do fun activities to boost children's self-esteem and confidence.
I have always worked with children and young people and find my role at Nelson's Journey incredibly humbling.  We are working with families at one of the most difficult times in their lives and I feel honoured that I can support them through that.
I joined Nelson's Journey as a member of staff in August 2016, prior to this I was a volunteer on our therapeutic weekends, activity days and supported the Youth Panel in their activities.  This is a very special role for me, I am always amazed at the coping abilities of children and am delighted that I can be here to support them.
Before working for Nelson's Journey, I was a volunteer on the therapeutic weekends and activity days.  I really enjoy my job, being able to help children work through a challenging experience gives me great pride in what I do.
Supporting the emotional well-being of children and young people has always been very important to me. I understand how vital it is to receive the right support at the right time. This is what inspired me to join the team at Nelson's Journey. I feel privileged to work for a charity that makes such a big difference to the lives of children, young people and their families.
I started working for Nelson's Journey in 2011, having been a volunteer for many years prior to that.  My current role is to develop and deliver various programmes and projects that will help the bereaved children and young people that we work with.   I co-ordinate some of our therapeutic residential weekends and activity days too.  I also oversee our Young Volunteer's scheme.  This role ensures we hear the voice of children and young people within the charity as we continually develop our services.
Funding and Marketing Team
You can contact the Funding & Marketing Team for support with your fundraising activities by phoning 01603 431788 or by email at enquiries@nelsonsjourney.org.uk
My role is to support wonderful people in the community including groups and individuals, who choose to fundraise or spread awareness of our service, through one off and annual events, talks and charity of the year nominations.
My role is to organise the events which are held by our charity to either raise funds or support those we work with.  It is likely that you will see me at events like our Christmas Quiz, Walk of Smiles, Christmas Carol Concert or Fundraising Balls.  I look forward to meeting you soon.
My initial role is to provide cover for Gena Moore whilst she is on maternity leave and support local businesses who choose to raise funds for our work.  Following this I will be supporting the funding and marketing team in making sure we have enough funds available to continue delivering our services across Norfolk.
My role is to work with our corporate supporters to provide sustainable support for Nelson's Journey, either through company fundraising, employee volunteering or in-kind services.
Admin Team
Supporting all the functions of Nelson's Journey to ensure we are best able to meet the needs of Norfolk's bereaved children.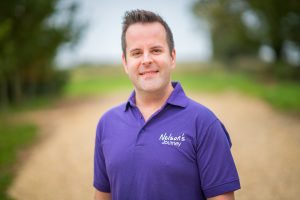 Rob Sheehan
Assistant Office Manager & Service Administration Manager
I support our child bereavement service team in all that they do and assist in the preparation of our therapeutic interventions. I also take referrals from anyone who has parental permission and pass these on to our support team.
Nelson's Journey | Child Bereavement Help for Norfolk
Kim Chase
Office Manager
I make sure that Nelson's Journey is running as efficiently as possible, helping to keep the work environment safe and happy. I am also one of the people who takes referrals.
Nelson's Journey | Child Bereavement Help for Norfolk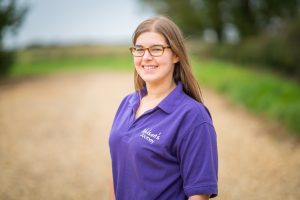 Hannah Harper Newman
Service & Training Administrator
As well as supporting the provision of training to professionals around the County, I also take referrals over the phone. People can sometimes feel unsure about calling us for help but I know that we can always do something, whether that is offering guidance or a higher level of support.
Nelson's Journey | Child Bereavement Help for Norfolk
The trustees
Our Board of Trustees are volunteers who work to ensure that the charity is governed effectively
Phil is a solicitor and a Consultant at Rogers & Norton, who have raised funds for Nelson's Journey over a number of years. Phil was keen to get involved and work with the charity as a result of that relationship and was appointed a trustee in September 2013. Phil then became Chair of trustees at the beginning of 2014.
I'm a founding director of Rosedale funeral home. I'm passionate about supporting bereaved children and love working with Nelson's Journey to provide training to school teachers and other professionals.
Mark has worked in a variety of roles for Barclays over the past 28 years and is currently a Relationship Director with the Corporate team looking after businesses across Norfolk & Suffolk. Having seen the great work Nelson's Journey do, when the opportunity arose to become a trustee Mark was delighted to join the board and is keen to use the experience and skills gained during his time with the bank to help this very worthwhile charity continue delivering its objectives.
Jill comes from a Health background, working many years with children and families, often within Mental Health, Child Protection and Bereavement. For four years she worked for Nelson's Journey, starting as Assistant Programme Manager and later as Child Bereavement Services Manager. She is passionate in her belief that all bereaved children should have access to the help and support that is their right, to enable them to reach their potential in future years.
Dr Sarah Maxwell has been a Consultant Child and Adolescent Psychiatrist since 2005. She works in Great Yarmouth and Waveney for Norfolk and Suffolk Foundation Trust seeing young people with a variety of mental health problems up to the age of 18. Sarah loves Norfolk's big open skies and feeling of space and so spends lots of time outdoors walking and sailing on the North Norfolk coast. She started doing "Drs Question Time" for the Nelson's Journey residential weekends in 2005 and has loved being part of this. Having been part of Nelson's Journey in this way for some time, being asked to become a Trustee felt like a natural step.
I'm a lecturer in Sports Development at the University of Hertfordshire. As an 11 year old, I attended the very first Nelson's Journey Therapeutic Weekend after the death of my father to cancer. I became a Nelson's Journey volunteer 7 years later and am now delighted to be able to work with the Board of Trustees as a previous service user. The charity continues to go from strength to strength and I am passionate about making sure we are able to sustain its presence for Norfolk's children and young people, as I know first-hand what a difference Nelson's Journey makes.
I am a solicitor at Steeles Law based in Norwich and, as well having a young family of my own, I have friends and family who have had first-hand experience of the challenges that face bereaved children and their surviving loved-ones.  I am passionate about making a positive contribution to a charity that has such a strong reputation within the local community and I am particularly keen to support Nelson's Journey in its ongoing commitment to enabling bereaved children to look forward positively to the future and reach their full potential.  The charity's desire and determination to bring back smiles really matters.