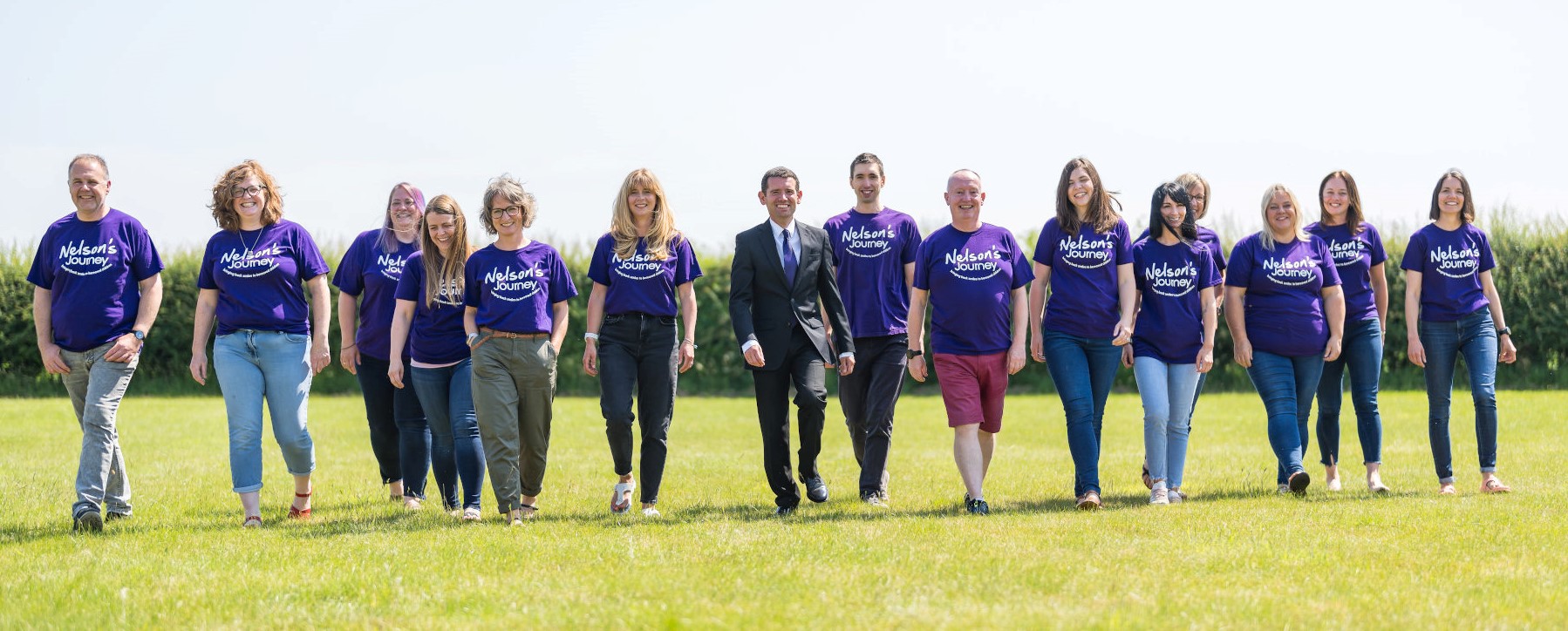 ABOUT US
745
Children referred in 2021
704
Received 1:1 therapeutic support in 2018
1013
Professionals have attended our bereavement training
852
Calls made to our Support Line in 2019
Since 1997, Nelson's Journey has been supporting children and young people in Norfolk with their bereavement needs, helping them to understand and cope with their feelings. The charity also supports professionals in the county who work with children, such as teachers and health workers, to help raise awareness of issues affecting bereaved children.
Nelson's Journey's vision is that every bereaved child in Norfolk will look forward to a positive future, empowered to reach their full potential.
Tina and Sammy
Tina and her daughter Sammy talk about the support they had from Nelson's Journey
Each child and young person will have their own bereavement support needs, and our service offer reflects that everyone is different. Our professional team reviews all Requests for Support forms, and will assess for the most appropriate service that we can offer for the child/young person's own individual needs.
For deaths that are very recent, we may offer you help through our Early Support service. This is a telephone based service which helps families to understand and support a child's needs in the early weeks and often before the funeral.
Many Requests for Support relate to deaths that have happened several months or years ago. In theses cases, we may offer either a parent/carer Telephone Support service to help families over a period of time; or we may offer a direct in-person service with the child/young person which could include 1:1 appointments and group based activities.
For professionals working with children and young people in Norfolk, we can offer free online child bereavement awareness training. Please see our Guidance page for information.
Our work is made possible by our experienced team of staff, trustees, and committed adult and young volunteers who have a shared vision of support for bereaved children and young people in Norfolk. If you would like to join them and are able to volunteer to help to bring back smiles to bereaved children, then please see our Volunteer page. We welcome applications and interest from both adults and young people.
My role is to provide leadership of the organisation so that it can meet its aims for children affected by bereavement in Norfolk. I work with the charity's staff and its Board of Trustees to set and deliver plans which develop our services and ensure financial sustainability.
Simon Wright
simon@nelsonsjourney.org.uk
Child Bereavement Support Team
Our professional support team develop and deliver the services to meet the bereavement needs of children and young people referred to Nelson's Journey
My role is to ensure we are delivering the best and most appropriate service to the bereaved children and young people that we work with.  I ensure that our support is accessible to all and manage our child bereavement support team who support over 700 children each year.
Before working for Nelson's Journey, I was a volunteer on the therapeutic weekends and activity days.  I really enjoy my job, being able to help children work through a challenging experience gives me great pride in what I do.
I joined Nelson's Journey as a member of staff in August 2016, prior to this I was a volunteer on our therapeutic weekends, activity days and supported the Youth Panel in their activities.  This is a very special role for me, I am always amazed at the coping abilities of children and am delighted that I can be here to support them.
I believe all children, regardless of their experiences or circumstances, should have the opportunity to reach their full potential. I have experience of supporting children and young people in a range of different settings, giving them the stepping stones they need at that point to move forward more positively. Art and play is frequently used in my therapeutic work with children to cover difficult subjects and help them explore their feelings and communicate in the best way they know how.
I have always worked with children and young people and find my role at Nelson's Journey incredibly humbling.  We are working with families at one of the most difficult times in their lives and I feel honoured that I can support them through that.
I am passionate about helping with better wellbeing and mental health, and the support offered by the team at Nelson's Journey plays a vital part in that. It's a real honour to be able to journey alongside children and young people through such a difficult time in their lives, and to witness the amazing inner strength and resilience each of them possess.
I've worked with children and families for many years and feel very passionate about the work here at Nelson's Journey. My role is to work alongside families, supporting them during difficult times. It is a real privilege to work directly with children and young people, helping them to recognise their strengths and build resilience.
Before joining Nelson's Journey, I worked with children and young people in various roles and settings. Being able to support them during these difficult times and offer ways to help, support, and communicate their feelings is a privilege. The work carried out at Nelson's Journey is nothing short of amazing!
All young people deserve the opportunity to thrive and develop the resilience they need to move through life. I've worked with young people and families in a supportive capacity for many years and feel privileged to work directly with young people in this role and for such a committed and caring organisation.
Funding and Marketing Team
You can contact the Funding & Marketing Team for support with your fundraising activities by phoning 01603 431788 or by email at fundraising@nelsonsjourney.org.uk
My role as Funding & Marketing Manager is to ensure we have sufficient funding to sustain our support services. It's also to raise awareness of the charity and to develop the fundraising strategy for today and the changing times ahead. Contact:
gary@nelsonsjourney.org.uk
I work closely with grant and funding organisations to ensure we bring in vital funds to support the work we do to support bereaved children and families in Norfolk. I also update our social media platforms and will get involved with any other fundraising tasks the team require! I work part time Tues-Fri between 9.15am – 2.45pm and you can get in touch by emailing me at rebecca@nelsonsjourney.org.uk
I'm super excited to be working alongside the rest of the wonderful Funding and Marketing team to ensure we raise enough funds to allow the charity's amazing work to continue. I work part time Tuesday – Thursday 9-5pm and you can contact me at kirsty.rose@nelsonsjourney.org.uk
Office Management and Business Support
Supporting all the functions of Nelson's Journey to ensure we are best able to meet the needs of Norfolk's bereaved children.
I make sure that Nelson's Journey is running as efficiently as possible, helping to keep the work environment safe and happy. I am also one of the people who takes referrals.
Emily supports the delivery of efficient processes across the charity's operations.
I have recently joined Nelson's Journey to assist with the charity's processes and goals and support the needs of young people.
I have taught in Norfolk schools for 20 years and have experienced first-hand, how bereavement presents itself in the classroom. I support the whole charity by giving presentations, working with our volunteers, developing and preparing resources and talking to families. My own volunteer work with Nelson's Journey really inspired me to work here.
Our trustees
Our Board of Trustees are volunteers who work to ensure that the charity is governed effectively
Phil is a solicitor and a Consultant at Rogers & Norton, who have raised funds for Nelson's Journey over a number of years. Phil was keen to get involved and work with the charity as a result of that relationship and was appointed a trustee in September 2013. Phil then became Chair of trustees at the beginning of 2014.
Mark has worked in a variety of roles for Barclays over the past 28 years and is currently a Relationship Director with the Corporate team looking after businesses across Norfolk & Suffolk. Having seen the great work Nelson's Journey do, when the opportunity arose to become a trustee Mark was delighted to join the board and is keen to use the experience and skills gained during his time with the bank to help this very worthwhile charity continue delivering its objectives.
I'm a lecturer in Sports Development at the University of Hertfordshire. As an 11 year old, I attended the very first Nelson's Journey Therapeutic Weekend after the death of my father to cancer. I became a Nelson's Journey volunteer 7 years later and am now delighted to be able to work with the Board of Trustees as a previous service user. The charity continues to go from strength to strength and I am passionate about making sure we are able to sustain its presence for Norfolk's children and young people, as I know first-hand what a difference Nelson's Journey makes.
I am a solicitor based in Norwich and, as well having a young family of my own, I have friends and family who have had first-hand experience of the challenges that face bereaved children and their surviving loved-ones.  I am passionate about making a positive contribution to a charity that has such a strong reputation within the local community and I am particularly keen to support Nelson's Journey in its ongoing commitment to enabling bereaved children to look forward positively to the future and reach their full potential.  The charity's desire and determination to bring back smiles really matters.
Ed is Managing Director at his family's business Roys (Wroxham) ltd. His first involvement with the charity was in 2016 when Nelson's Journey was chosen as Roy's charity of the year. He was impressed by the unity of purpose of all the NJ team he met & their dedication to supporting bereaved young people in Norfolk. Ed is a chartered accountant by training, having trained with PwC in Norwich, and brings his strategic, operational and financial experience to help Nelson's Journey continue supporting bereaved young people in Norfolk.
James is a local business owner (The Original Cottage Company, based in Reepham) and has had a long association with Nelson's Journey through fundraising and building awareness for the charity through food and drink events that he has organised. He has a young family himself and has witnessed the pain and grief that children go through when losing a loved one – and the difference that Nelson's Journey can make in the time that they are most needed. He brings business and marketing experience to support the charity with its funding and marketing in particular.
Andrew is an experienced operations and sales manager in service based and retail settings, and lives in Caister on Sea. Formerly, as Senior Manager with a large regional Funeral Directors, Andrew first worked with Nelson's Journey in 2013, and has been involved in sponsorship and support since that time. Having now moved on from that role, he is keen to use the experience he has to maintain support for the charity into the future, and to be able to continue to work along side the other staff and volunteers.
As a GP at Holt Medical Practice for 33 years Alison saw many children and families affected by bereavement. She has volunteered with Nelson's Journey since 2016 doing Dr's Question Time at residential weekends and activity days. Having witnessed the amazing work of the charity and seen the difference made to bereaved children, Alison was keen to do more. She is delighted to have the opportunity to use her clinical knowledge to help this very worthwhile charity to continue to develop.
Anna has been a paediatric nurse since 2003, during which time she has worked in the acute, community and more latterly in commissioning. She currently works for Norfolk County Council commissioning services for children and young people. Having suffered the bereavement of one of her own children, she is passionate about young people being given the opportunity to access appropriate support and given a place to understand and process their grief.