This year, Nelson's Journey turns 25 and in celebration, we are launching our NJ25 campaign. We are looking for 20 businesses to join together to collectively fund the salary of a Child Bereavement Support Worker which will support more than 100 children over the next year.
Places have already started being snapped up, so please act quickly if you or your business would like to fill the remaining places.
If you would like to find out more or become part of the NJ25 campaign and join other hard working businesses such as DHL Supply Chain, Earlham Crematorium, Jaya Dance, Rosedale Funeral Home Signs Express Ltd Westcotec Limited & West Earlham Dental Practice Ltd  contact Sarah Dodge, Funding & Marketing Officer to secure your place – details below!
Westcotec
"We are delighted to be part of this campaign. The work Nelson's Journey do is fantastic and we need to make sure they can continue to grow to help more children in the future."
Earlham Crematorium
"We are absolutely thrilled to be a part of the 25th Birthday celebrations, and to help Nelson's Journey continue with their amazing work."
To find out more, click here for our brochure.
Get in touch with Sarah to ask a question or to get involved, call 01603 431788 or email sarah@nelsonsjourney.org.uk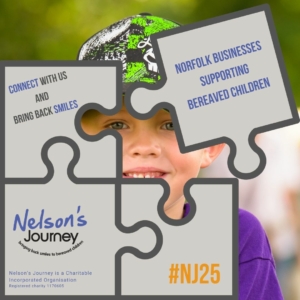 https://nelsonsjourney.org.uk/wp-content/uploads/2022/09/LinkedIN-blog-NJ25.jpg
200
600
Nelson's Journey
https://nelsonsjourney.org.uk/wp-content/uploads/2022/12/A4928-Nelsons-Journey-25Years-RGB-1030x480.png
Nelson's Journey
2022-09-06 11:36:06
2022-09-07 11:06:46
Join our NJ 25 Campaign - Celebrating 25 years of Nelson's Journey